21. 12. 2022
Meet the Artist x 2nd STREET NY
Meet the New York artist who had an interesting introduction to an opportunity to become 2nd Street's sticker artist.
Photos by:
Owen DiRienz
Written by: Kristine Banuelos
Introduce yourself! What's your name and what do you do?
My name is Amani Heywood, and I'm a Bronx-born Trinidadian artist. I use my love of fashion, philosophy, and architecture to invoke a feeling that I translate into an abstract mindscape.

As a child, I was diagnosed with dyslexia. This made me see letters morph into swirls and squiggles in my work. It always felt like I wasn't reading, but more like interpreting these symbols to move through the world. Now that I understand what my brain was doing, I like to show people what I saw then.

Poring, dripping, throwing, and spraying are only some application techniques I use to apply color to whatever object I'm painting. Matching and blending colors until I have a photo that represents my feelings is what I love.
What is your background? How did you start making art?
I have yet to receive formal training when it comes to art making. I have a degree in Fashion Merchandising because I was always fascinated with the consumer experience and habits. Being able to organize and arrange a store in such a way that it tells a story of the environment was always what I wanted to do.

I started working with paint early on in the pandemic. I became bored of playing video games in the house all day, so I wanted something new to do. After watching documentaries on artists such as John Michel Basquiat, Mark Rothko, and Jackson Pollock and hearing their stories while seeing the large-scale works they produced, I knew I had to try.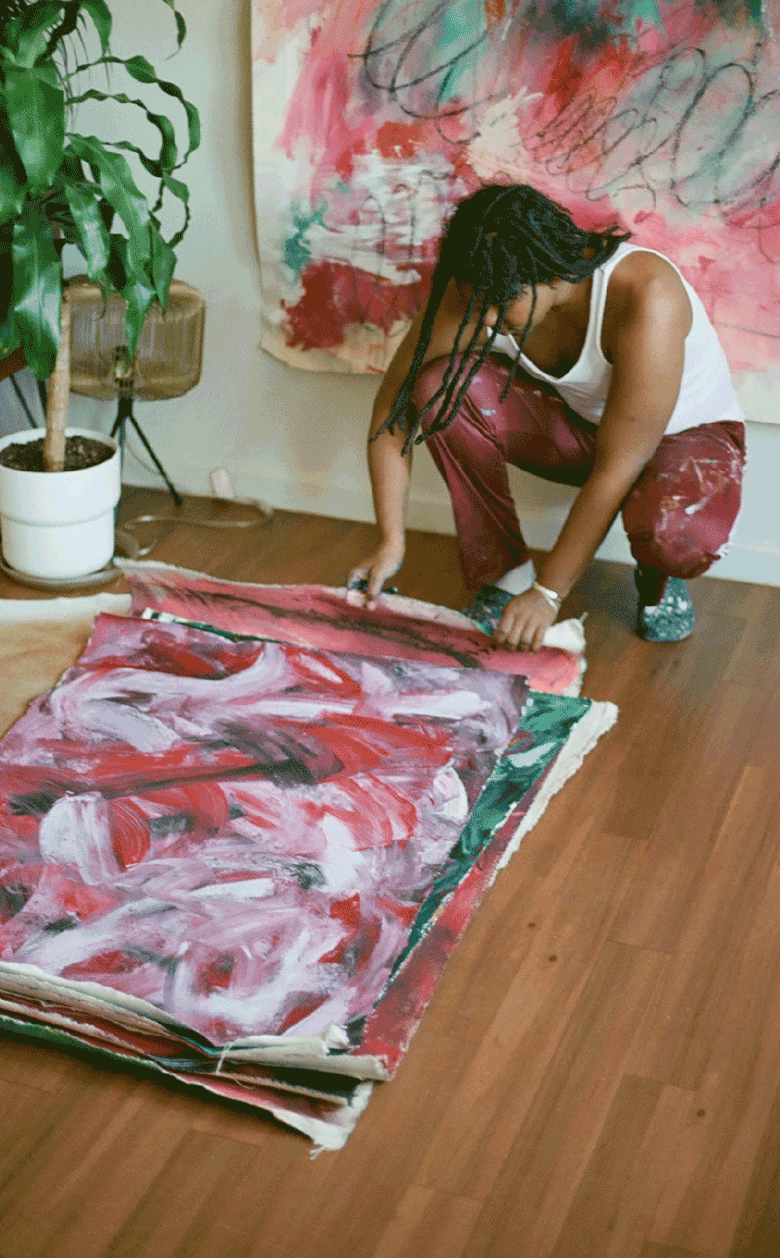 How did your opportunity of collabing with 2nd Street come about?

I saw that 2nd Street was having a store contest, so I eagerly submitted my best work. After a few days, I was told that I did not win. I was saddened but not defeated; I kept my head high and kept going. A few weeks later, my friend Omi had a meeting at LAAMS.

After his appointment, he introduced me as Amani Heywood, to which they replied that it sounded familiar. I told them how I had entered their contest but unfortunately lost. I then showed them my 7ft x 9ft painting hanging in the shop at LAAMS. They acknowledged my talent and determination as an artist and gave me a chance to prove myself. I took the opportunity and gave it my all.

I went from not winning the contest to getting a sticker collaboration. Determination and consistency always pay off. It was indeed an honor to have worked with them (2nd Street).

What type of artwork do you enjoy doing the most?

I love being and creating abstract expressionist work. Being able to tell a story through my work that comes from inside me is a blessing. I love blending, pouring, dripping, and throwing paint at the canvas; it makes me feel like I'm getting all my feelings out. Using colors to give a visual representation of my thoughts, feelings, and emotions is key to my storytelling. I'm painting and seeing the colors blend to make new shades and hues, like meeting a new friend. Each color has its personality, feel, and language.

What is your most important artist tool? Is there something you can't live without in your studio? If I had been asked this a few months ago, I would have easily said my bush, but as I grow in my craft, I've realized my most excellent tools are my own hands.

Of course, brushes, palette knives, and pencils are essential, but I find the most freedom when I use my hands, fingers, and feet to make my marks on the canvas. I sometimes imagine myself as a modern-day caveman making marks on canvas that will stand the test of time, similar to the Paleolithic cave paintings.

Is there an artwork you are most proud of? Why?

Honestly, no. At completion, my paintings give me the same proud feeling as a parent finding out their child just got into an IVY league school. Looking at my completed work gives me a sense of accomplishment and achievement. They remind me of the risk and challenges I overcame to achieve my desired outcome. The feeling from the paintings gives me the strength and courage to challenge and reshape my world.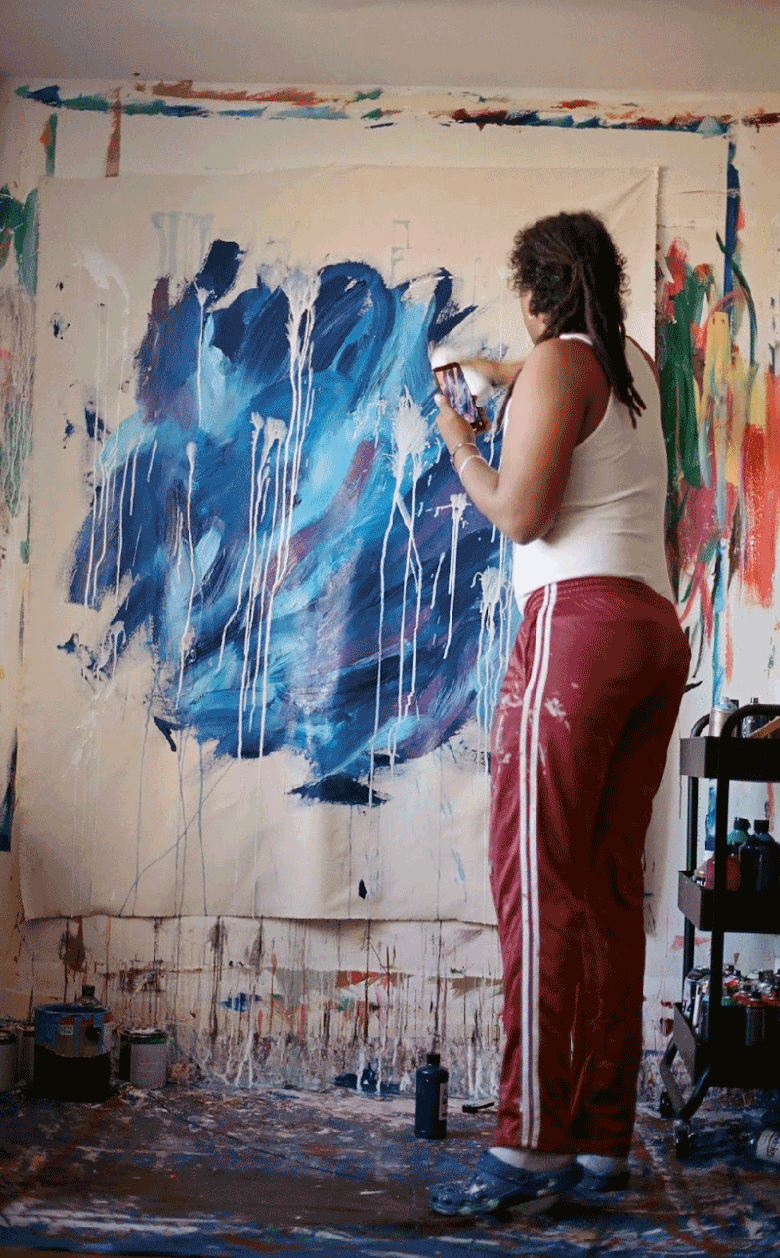 Where do you find inspiration? What do you do when you're not inspired?

For inspiration, I look into myself. Me creating art is fun, but it's genuinely my therapy session. I spend hours in front of the canvas talking to myself about myself. I think it's important to find motivation rather than inspiration these days. I have a lot to say and get off my chest, but sometimes I lack the gas I need to get up and go.

When I feel this lack, I think of artists such as Sam Gilliam, Mark Rothko, and Francis Bacon and all the trials and tribulations they had to overcome to get their voices heard. I think of their legacy and how history has stamped them as essential artists. If I want them to talk about me in the same regard, I MUST PUT THE WORK IN.

What is your dream project?

I don't like the idea of a "dream project." When I think of my projects, I see them as goals I step towards daily. To me, the term dream seems intangible, like something stuck in my head and not here in reality.

The primary art goal I'm working on is my own production company, "Before They're Gone." I've started a production agency geared towards the evolution of emerging artists across different disciplines. I love meeting new artists and helping them grow and develop. My goal is to provide a platform to help artists get their voices heard, and their work seen.

What is the best piece of advice you've been given?

Some of the best advice I ever got was from my parents. They told me as a child that no matter what I do in this world, as long as I'm happy and do no harm to others, they will be proud and accepting of me.

As a child, it didn't really mean much, but as I grew into my adult years, that conversation has given me the strength and courage I needed. Chasing my goals knowing that my parents support me has really been what keeps me going. I love my parents, friends, and family; all I want to do is make them proud and happy.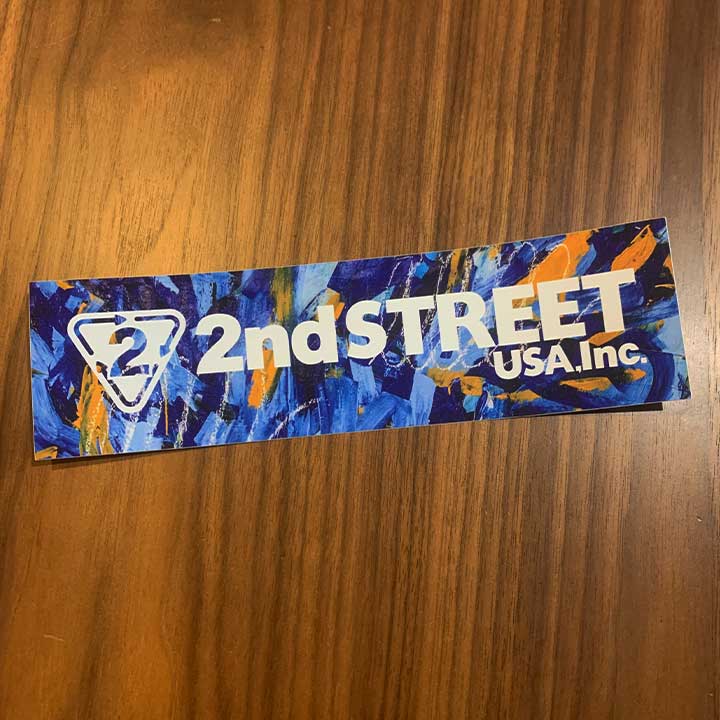 Read About ASM Nadine https://2ndstreetusa.com/article/22/11/30/2nd-street-spotlight-nadine
Instagram: https://www.instagram.com/2ndstreetusa/
TikTok: https://www.tiktok.com/@2ndstreetusainc
We're Hiring!: https://2ndstreetusa.com/career